Words from the leader of the school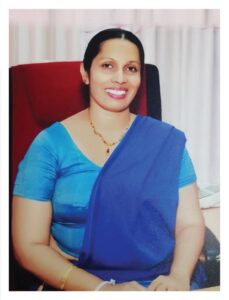 Being the present Principal, I am honored and delighted to record this message for the launching of the official website of Samudra Devi Balika Vidyalaya.
Backed by a glorious past with over a hundred plus years behind, Samudra Devi Balika Vidyalaya has been a great education institution that has produced many a past students who have excelled in their diversified walks of life.
Aiming to achieve the goals of holistic development of qualitative education, present day daughters of Samudra Devi are trained to outshine in both co-curricular and extra-curricular activities whilst inculcating sound moral values and principles within the established Buddhist philosophical framework of the school.  
I take this opportunity to place on record my appreciation to all past principals who have worked steadfastly providing their visionary leadership to develop the school to the present status. I am gratuitous to all past and present teachers who have devoted and committed themselves to provide a pleasant and inspiring educational experience to the daughters of Samudra Devi enabling them to achieve greater heights in both curricular and extracurricular domains.
Our daughters are to be provided with a well-balanced education so that, not only they enjoy their studies but also enjoy their stay in the school whilst developing strong and lasting friendships with their school mates. Our efforts are to be focused to ensure that the daughters leaving the school are well-disciplined and confident personalities inculcated with the virtues of self and mutual respect, destined to accomplish the missions of their chosen path, eventually to lead a happy life.
Launching of the school website is a timely initiative intended to keep pace with the latest developments of the information technology. The school website would be the authentic source of information of the school and will ensure it is updated accordingly. I hope, the students, parents and past students alike would reach the website for the updates of the school activities.
Samudra Devi Balika shall progress in all aspects of education developing a unique brand name that is incomparable.
I would like to call upon the past students of Samudra Devi and all other well-wishers to come forward to join hands with the school to be a party to the success journey of the school. Your contributions in whatever forms that may be, of immense importance to the school to develop the unique brand of 'SAMUDRA DEVI'.